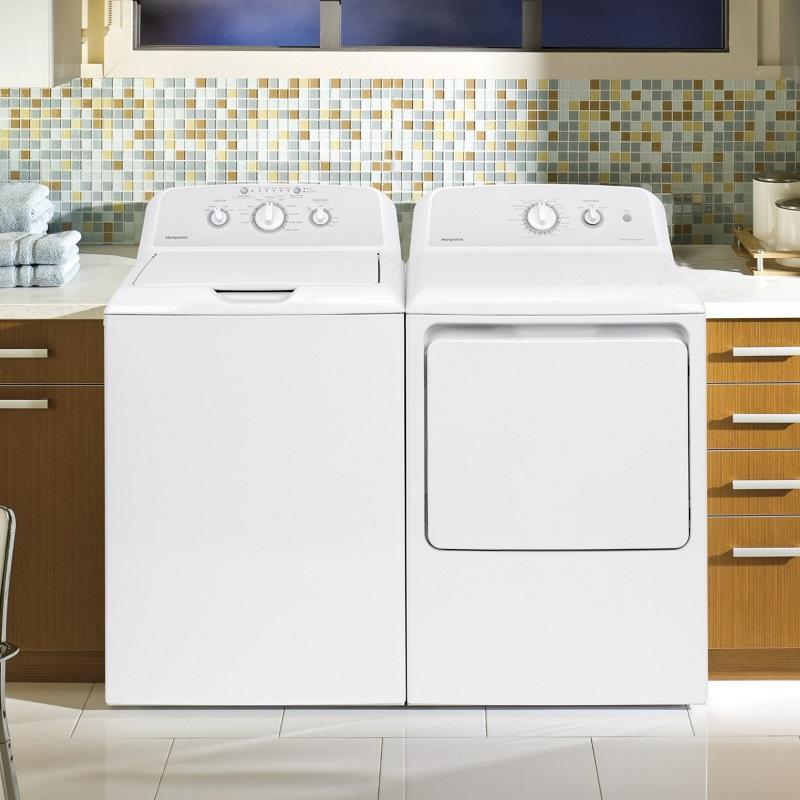 Hotpoint Laundry Pair
Model# WHOHTW240ASKWSA-WHOHTX24EASKWSA
Style:

Washers and Dryers
FREE delivery and installation.
While supplies last.  Availability varies by location.
The Hotpoint 3.8 cu. ft. capacity washer has a stainless steel basket.  Long-lasting stainless steel finish resists rust and won't chip, peel or snag clothes.  The heavy-duty agitator gives you powerful wash action that rotates your laundry for a thorough clean every time.  You get PreciseFill with the option of 4 water level selections so you can select your preferred load size for the desired water level or let the machine automatically sense the load and add the amount of water needed to ensure great cleaning results.  You can also select your preferred load size for the desired water level.  Choose the Deep Rinse option to ensure clothes are rinsed free of detergent, fabric softener and stubborn soils.
The Hotpoint 6.2 cu. ft. capacity dryer offers you 3 heat selections for personalized fabric care including a Delicate Cycle to help protect delicate fabrics.  For clothes that come out feeling and looking great, the Auto Dry setting monitors air temperature to set the optimal drying time.  The upfront lint filter makes cleaning out lint easy.  End-of-cycle signal alerts you when the load is done, so clothes can be removed before wrinkles set in.  The way the door opens can be reversed to meet your needs.
Washer:
3.8 Cu. Ft. Capacity
10 Cycles
6 Temperatures
4 Water Levels
Stainless Steel Basket
Heavy Duty Agitator
700 RPM Spin Speed
Deep Rinse Option
Dryer:
6.2 Cu. Ft. Capacity
4 Cycles
3 Temperatures
Aluminized Alloy Drum
Reversible Door
Enter Your Review:
Fields marked with an asterisk (*) are required.